Medical professionals, particularly paramedics and first-aiders, will be required to carry portable medical equipment and diagnostic kits in order to take care of the general public and save lives whilst on the move.
This medical equipment is needed in their everyday role, so it's critical that the equipment has a suitable protective case to store the equipment and cushion it during transportation. Medical equipment also needs to be kept clean and sterilised to prevent unwanted contamination or infections. For this reason, it can be much easier and convenient to have the equipment stored away in a custom-designed medical case.
As one of the leading UK manufacturers of custom designed and manufactured medical sample bags and equipment cases, we also supply high-quality and precision-cut custom foam inserts for our medical equipment cases, so that the equipment can be safely stored away with its very own cushioned slot. There are many types of medical equipment and diagnostic kits that you can store in one of our medical equipment cases, some of which we have listed below that have been common purposes for our medical cases.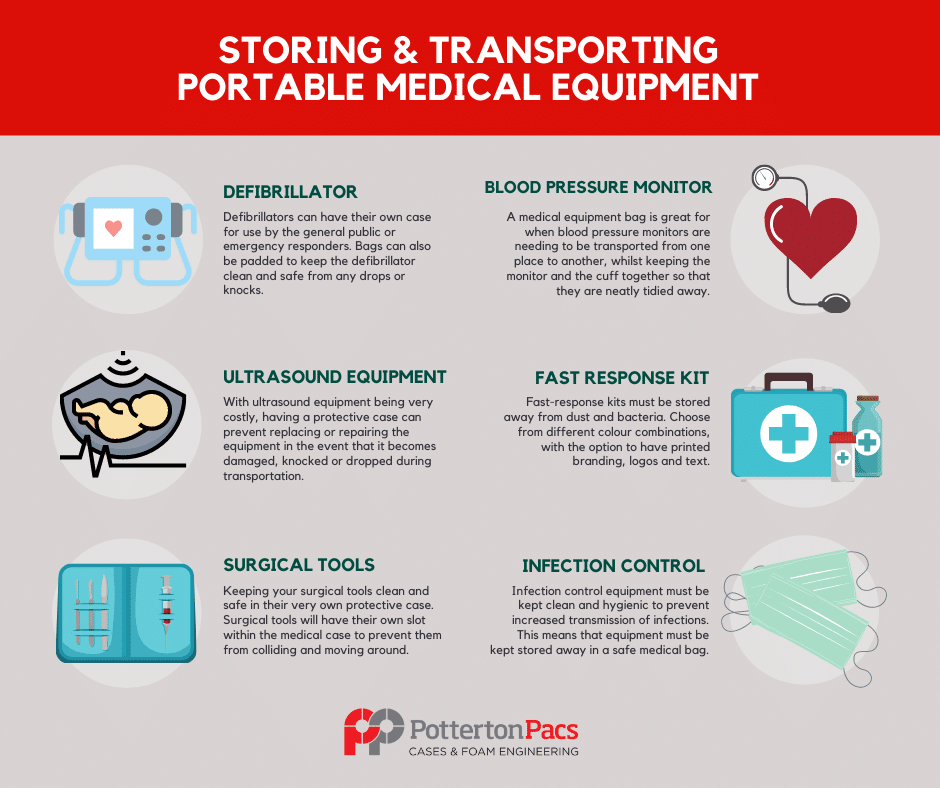 Defibrillator
A defibrillator is a life-saving piece of medical machinery used when a patient is suffering from a  cardiac arrest, by issuing an electrical shock to reset the electrical state of the heart. For paramedics on the go, defibrillators are a critical piece of equipment which can save lives, so it's important that they are kept safe during transportation.
Our medical cases are ideal for storing portable defibrillators for use by the general public or even emergency responders. We also offer padded medical bags, meaning that the defibrillator is kept clean and safe from any drops or knocks.
Blood Pressure Monitors
Blood pressure monitors are used to measure your blood pressure in the form of systolic and diastolic. As blood pressure monitors are everyday pieces of equipment, it's important they are kept safe and aren't left lying around with no protection. 
A medical equipment bag is great for when blood pressure monitors are needing to be transported from one place to another, whilst keeping the monitor and the cuff together so that they are neatly tidied away.
Surgical Tools and Instruments
Whether it's a speculum, dilator, lancets, scalpels or surgical scissors, keeping your surgical tools clean and safe needs to be a priority, particularly when they are used in demo kits to teach and train students on how surgical tools are used in operation. Rather than having surgical tools and instruments left out on the side collecting dust, they can be stored away in their very own protective demo case. They make equipment easily transportable whilst maintaining a professionally presented and well-organised appearance.
With our custom-cut foam, surgical tools will have their own slot within the medical case to prevent them from colliding and moving around. 
Fast Response Kits
For ambulance workers, first-aiders or generally anyone working in the emergency response industry, having a fast response kit (also known as a first-aid kit) means that you can access anything you need to respond to major incidents and emergencies.
Fast-response kits will usually contain gloves, scissors, bandages, plasters, a mouth-to-mouth face shield, and cleansing wipes, so it's important that these items are stored in a medical equipment bag to keep them together.
These fast response kits will need to have printing on the exterior of the bag so that emergency responders know what is in the bag during an emergency. When buying a medical equipment case with PottertonPacs, you can choose from different colour combinations for your bag, with the option to have branding, logos and text printed on the bag with silk-screen print.
Ultrasound Equipment
Ultrasounds are used to create an image of the inside of the body, which is most commonly used in pregnancies. Ultrasound equipment is also frequently used within nursing homes to diagnose conditions, rather than transporting an elderly patient to a hospital facility.
With ultrasound equipment being very costly, having a protective case can prevent needing to replace or repair the equipment in the event that it becomes damaged, knocked or dropped during transportation. We also frequently supply medical cases for veterinary uses when issuing ultrasounds on animals and pets.
Infection Control Equipment 
Infection control equipment has become more widely used following the COVID-19 pandemic, which meant we are seeing more infection control equipment being purchased, including gloves, medical face masks, face shields, visors, overshoes, hand sanitisers, aprons and gowns.
During the pandemic, our medical cases were frequently used to enable isolation and shielding to be upheld by keeping infection control equipment safe from contamination. These have been used widely during in-house treatments, testing and monitoring.
This infection control equipment is used not only during the pandemic but also day-to-day by medical professionals who are operating within environments which must be kept clean, hygienic and disinfected.
Infection control equipment must be kept clean to prevent cross-contamination and increased transmission of infections. In order to keep this infection control equipment clean, it needs to be kept stored away in a safe medical bag, which can be transported around easily for medical professionals on the move. 
Safely Store & Transport Your Medical Equipment
Whether your medical equipment is to be used every day or not as frequently, you should still have it safely stored away in a medical equipment bag which can also be used for transporting the equipment from one place to another.
We know the importance of providing reliable and protective custom bags to the medical industry and we can assure you that our products are made to extremely high standards to ensure you are getting a quality product solution.
PottertonPacs are leading suppliers of custom made protective custom bags and this includes protective bags for use within the medical industry. Our medical bags provide a safe method of storage and transportation, with a custom solution to suit your medical needs and equipment requirements.
Get in touch with a member of our team today to discuss the various options of custom medical bags that are available to you.