SITUATED AT OUR HEAD OFFICE
Showroom
Our showroom has now re-opened to both general public and business customers. Access is via a ring bell to access system.Learn more about our impressive showroom and products.
Our showroom is open to the general public. A wide range of products are on display for you to come and view, receive expert advice on, and take advantage of our highly competitive prices.
On display in our showroom you will find a broad range of travel products including brands such as: Samsonite, American Tourister and Maxado Plastic Cases to name a few. Our specialist range also includes: Peli Protector and Peli Storm Cases, as well as Mossman Steamer Trunks.
We also have on display a good selection of everyday handbags, briefcases, along with a childrens' travel range – so something to suit everyone.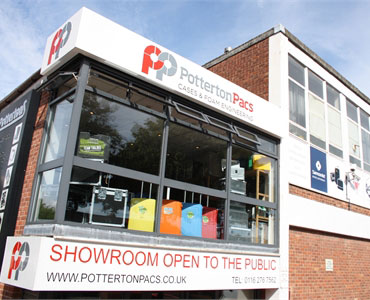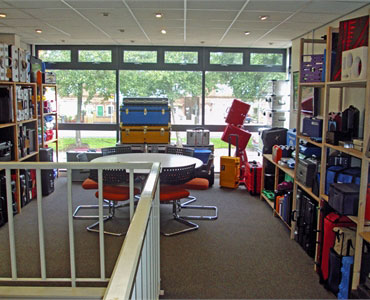 Business & Travel Luggage
Our friendly team are on hand to offer a thorough and helpful service to both business and general public customers. At our showroom you can physically assess the suitability of business or travel luggage to ensure it will suit their needs.
Our showroom is stocked with all types of luggage for both leisure and business, types include:
cabin luggage
medium 60-69cm
large 70-79cm
80cm extra large
soft-sided and hard-sided suitcases
multifunctional duffle/holdall bags and backpacks
laptop bags
briefcases
pilot cases
messenger bags
wheeled cases
In addition to we stock: professional protective storage, presentation and transit case solutions. These include tool cases, sample shoe bags and cases, Peli Protector and Peli Storm heavy duty waterproof cases, flight cases, plastic cases, aluminium cases and sample window and door sample bags.
On site our bespoke product display allows us to showcase the vast variety of products that we are proud to have the knowledge and skill to manufacture here at PottertonPacs.
This offers a great source of inspiration to our clients and allows you to see how your items would look as a finished article. On display our custom product solutions help to protect, package, transport or present a broad variety of items from intricate medical equipment to window samples. Custom manufactured items available to view include:
made to measure cases
bespoke bags
custom foam inserts
company branding examples
A member of our team will discuss your requirements with you and offer the various options available to turn your vision into a reality.
Call us today on 0116 2767562 to discuss your requirement or to book an appointment to see a member of our team, who will be happy to help.
Situated just 2 miles from Leicester city centre, our post code is LE5 4LE.
Our showroom is located on Coleman Road (near the General Hospital). We are in close proximity to Leicester City Centre, Leicester Train Station, local transport links include the A47.
Full Address: 103 Coleman Road, Leicester, LE5 4LE, United Kingdom